Deploy Solutions and CATALYST have partnered on a pioneering software solution that will allow scientists and government officials to connect satellite Earth Observation with "citizen scientist" observations on the ground. This will improve response times and effectiveness in the event of a natural disaster or climate change impact. 
The frequency and severity of such events are increasing the pressures and demands on local authorities and citizens. Preparing for natural disasters and managing a recovery effort is both complex and time consuming. It also requires a lot of data, both from satellites (Earth observation data) and from the ground.
Currently, government authorities and data scientists have a limited ability to directly request ground truth observations from citizens to assess the validity of satellite Earth observation algorithms; nor can citizens submit such observations. 
Deploy Solutions has partnered with CATALYST to solve this problem. They are producing a prototype solution that will enable scientists and governments to collaborate with citizens to validate and directly enhance the satellite image processing algorithms in near-real time to determine the ground truth. This will improve timely communications for planners and emergency responders.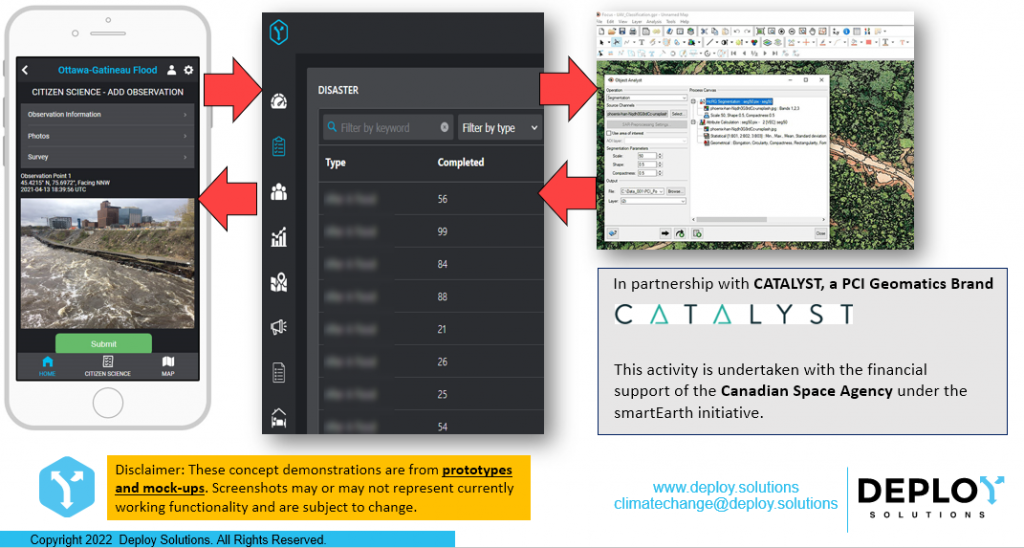 "We are incredibly excited to work with CATALYST to significantly enhance the capabilities of the climate change prototype and allow authorities to collaborate with citizen scientists before, during, or after the impact of a natural disaster," says Deploy Solutions Founder & CEO Nicholas Kellett. "This work strengthens our longstanding partnership with CATALYST. They bring expertise, advanced technical solutions, a world view and concern for addressing climate change issues and impacts. In these difficult and uncertain times, we feel our software solutions should be valuable to users, while promoting scientific expertise, environmental awareness and truth."
This project is undertaken with the financial support of the Canadian Space Agency under the smartEarth initiative. We are grateful for their assistance.
About Deploy Solutions
https://deploy.solutions
Deploy Solutions connects Earth observation data with downstream business needs by providing innovative Space Apps — software applications which use data from space.  
We are streamlining and accelerating the software development process using a factory approach that reduces customer project risk, cost, and duration while maximizing the end user experience and productivity.  
Since 2019, Deploy has been working with hundreds of students, citizens, NGOs, scientists, and government officials to identify top communication problems getting citizens to act on climate change risks. We are exploring ways software can help authorities and ordinary citizens communicate better and prepare for, respond to, and recover from climate change impacts and natural disasters. 
About CATALYST
https://catalyst.earth/
CATALYST is a PCI Geomatics Enterprises Inc. brand, which delivers scalable risk mitigation solutions across industry applications that leverage Earth Observation and non-Earth Observation data as a service to enable faster and sustainable decisions.
At its core, CATALYST offers hundreds of advanced, sensor agnostic scientific proven algorithms that can be applied to Aerial, Satellite Optical and Synthetic Aperture Radar (SAR) imagery. By combining algorithms with other spatial data, CATALYST Insights delivers timely analytics for applications such as flood monitoring, critical infrastructure monitoring, and agriculture. 
Working closely with companies to design, develop and deploy business friendly applications, CATALYST has set the standard for remote sensing and image processing. CATALYST serves customers in industrial, real estate, natural resources, utilities, geospatial, finance, professional services and government sectors.