The Pivot
Inspired by our long-running sponsorship and involvement of annual space hackathon events, Deploy Solutions has made a strategic 'pivot' to focus on the burgeoning commercial space sector.
We now provide our clients with access to valuable space data by creating innovative space applications — end user-focused software applications that harness information from space. Insights and analyses from satellite imagery and other data can benefit a wide variety of sectors, from agriculture and shipping through to urban planning and environmental protection. Our innovative 'software factory approach' streamlines the software development process, vastly reducing development cost, time, and risk for anyone looking to utilise space data.
Re-Launching at GeoIgnite
We made the decision to re-launch our brand to focus solely on the space sector during GeoIgnite Online 2020, the first-ever virtual version of the Canadian national Geospatial event.
With COVID restrictions preventing travel and space sector conferences postponed and cancelled all over the globe, the organisers of GeoIgnite Online conference decided to migrate the event online following the successful inauguration of GeoIgnite in 2019. Like other major sectorial events including the International Astronautical Congress and Utah's Small Satellite Conference, GeoIgnite aimed to bring the conference and exhibition experience directly into the offices and homes of delegates and exhibitors.
We seized the opportunity to press on with our plans and take advantage of GeoIgnite Online 2020 as the virtual venue for our official brand re-launch as Silver Sponsors of the event.
New Horizons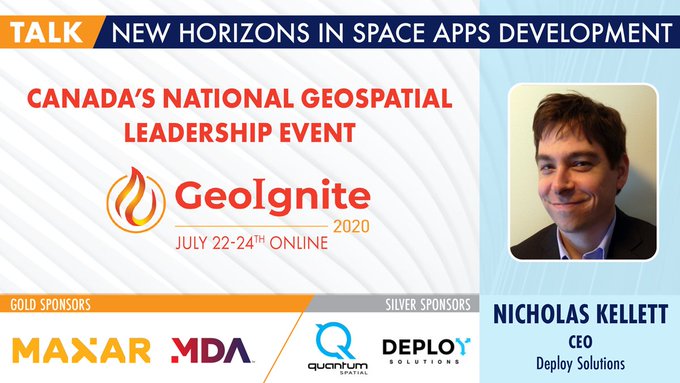 Our Founder & CEO Nick Kellett presented two sessions at GeoIgnite, one entitled 'New Horizons in Space Apps Development' and the other a 'social hour' with Kevin Jones, VP of Product at PCI Geomatics. Kellett explained, "We had put a lot of research and planning effort into our pivot and re-branding effort and knew GeoIgnite conference would be the perfect venue to showcase our new exclusive focus on the space sector." However, with the pandemic everything was suddenly thrown into doubt.
"The GeoIgnite
team made the decision to try an online format and it allowed us a chance to
move forward as planned, albeit with some adaptations."
He added, "The virtual event was a massive success and certainly harnessed the agile, dynamic, 'can-do' spirit of the geospatial community. And, it was fun and insightful!"
Jonathan Murphy, Managing Director and Founder of GoGeomatics Canada & the GeoIgnite event, stated, "GoGeomatics Canada was proud to have Deploy Solutions, one of Canada's most exciting and innovative Space companies,  showcase their strategic importance to the future of the Space sector at GeoIgnite.  Deploy Solutions successfully connected with participants both in Canada and globally enhancing the experience for everyone."
GeoIgnite Online 2020 welcomed a wide variety of remotely located delegates with heavy participation from across Canada's geospatial sector and involvement from federal, provincial, and municipal government organizations such as the Canadian Space Agency, Natural Resources Canada, Agriculture and Agri-Food Canada, Environment and Climate Change Canada, Statistics Canada, and Fisheries and Oceans.
Want to learn more?
At Deploy Solutions, we are excited by our new horizons. Want to learn more about what we do, and how it can help you? Book a call!